About C. Palmer Die Casting, Inc.
Our company was founded more than 60 years ago by Carmen Palmieri.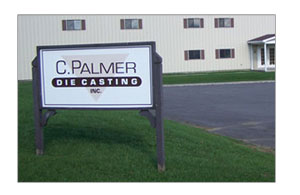 Our Origins
Carmen began in his basement after he decided to improve a small Italian cookie iron or pizzelle, which he had purchased. He didn't like the design on the pizzelle iron, so he decided to make his own. With a small amount of molding sand, aluminum and a coal furnace, Carmen created a mold with a flower design. His success lead him to build his own foundry in the back yard where he produced his own hand-held iron as well as sinker molds for fisherman.
By the mid 60's, Carmen found it necessary to expand and soon purchased property just outside of town. With the help of his son John, they transformed the business. John brought forth his knowledge in electronics with several new and innovative ideas for products, as well as automation. John designed and implimented a fully automated sand casting system. This system was revered by many companies. A national electronics manufacturer sent a few of their engineers to observe the system. They were, to say the least, impressed that such a small company could have so much automation and not having the resources of a larger conglomerate. They asked to use some of the ideas that John had implemented -- the request was honored.
In 1976, the company bought their first aluminum die casting machine. This was a vast improvement in quality of the product and secondary operations were decreased. As the company continued to grow, several additions were added as well as a fully staffed Tool & Die shop. This has continued to be one of our greatest assets.
In 1979 Carmen decided to retire at the age of 65, fortunately for us, he forgot to stop coming to work. Today at the age of 93, Carmen still keeps his 7:00 to 3:00 work regime.
In 1984, after graduating from college and a 2-year apprenticeship in accounting, John's son Philip joined the company. Philip began to bring the company into the computer age. The sand casting part of the company was phased out and converted over to die castings.
In the late 90's, still growing by leaps and bounds, and with two of our largest customers having expressed to us that their current level of purchases would be increasing for the next seasons by 40% to 100%; we found it necessary for expansion. Having pride in our reputation, and first and foremost being a service-oriented company, the decision was made in January 2000 to open a second plant of C. Palmer Manufacturing in Maryland, forming the new branch, and incorporating as C. Palmer Die Casting.
Today our Maryland facility manufactures many different items. Although still heavily vested in the fence industry, we currently manufacture parts fo the after-market automotive industry, medical equipment industry, electrical products and giftware.
Although many changes have occured over the years, one thing remains consistent, our dedication to our valued customers and the desire to bulid the highest quality products possible.